KWD Market+Charts Report: Impact of declining housing completions
At its summer conference in June, Euroconstruct published the latest projections for housing completions. These are now significantly lower than expected at last winter conference in 2022.

The headline of the official Euroconstruct report of the summer conference in June of this year already suggests a falling housing construction forecast: " Risks and uncertainties impeding the growth of the European construction market". Even clearer is the headline of the press release of the German ifo Institute related to the situation in Germany: "Significantly fewer new homes by 2025"!
Already at the beginning of the year, when preparing the current KWD Market + Charts study with the forecast for pipe consumption for surface heating, radiator connection and sanitary installation, we considered a worsening of the construction completion figures as a possibility. So, we have again included the Crisis Calculator to our market report.

The Crisis Calculator is intended to provide a way to respond to increased construction interest rates, high realization costs and economic slowdown in the new construction market. With its help, every user of our market study can react individually to changes by adjusting the forecasts for 2024 and 2025 by means of a percentage input per country.
For the current situation in Germany, the crisis calculator can show the new residential construction situation as follows: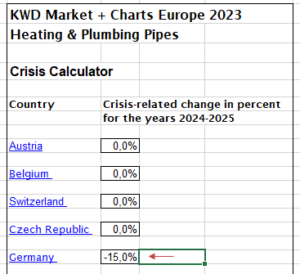 The KWD Market +Charts study is based on the forecast from the ifo Institute from Nov. 2022. However, as can be seen in the table on the right, the expected housing completions in Germany shrink drastically in the new forecast: 30% in 2024 and almost 40% in 2025.
However, it must also be seen
7hat subsidies for modernization projects have been raised sharply and that the modernization market should therefore grow.
and also in the new construction sector, the heat pump and thus frequently surface heating systems will play a much stronger role.
We will now simply assume a possible decline of 15% in pipe consumption in 2024 and 2025 in Germany as an example. The situation would then be as follows: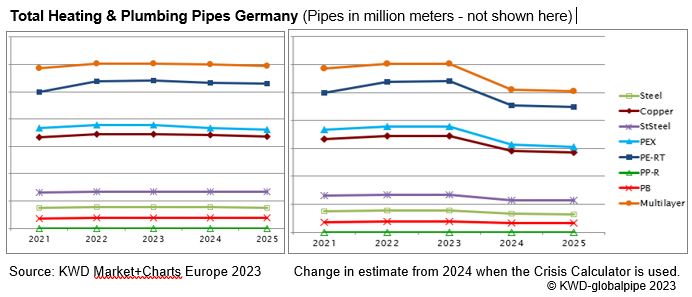 The report KWD Market + Charts "Heating & Plumbing Pipes Europe 2023" estimates how many million meters of pipe have been or will be installed in domestic plumbing systems in Europe and lists them by pipe material and application per EC19 country.
The KWD report costs 1,200 euros for our subscribers and 1,450 euros for all others (in Germany plus VAT, abroad with advance payment). Authors are Jutta Hix, chief editor of the KWD information services and Achim Seydel of Seydel Consulting. Detailed information about the study with page examples and order forms are attached to this issue.
More Info: https://www.globalpipe.de/market-reports/on-heating-plumbing-pipes/
Contact: HIX Publishing, hix@kwd-online.de.
Market Reports