KWD market report: How are Europe's pipe markets developing in times of crisis?
Answers and forecasts in the new update of the KWD Market + Charts "Heating & Plumbing Pipes Europe 2023". It shows the consumption of pipes for domestic installations in Europe by materials and application per country! NOW with Long Time Charts for the TOP 5 countries!

The consumption of pipes in hot and cold water installations is of course firmly linked to the building construction activity, both new construction and modernization, in the individual European countries. Therefore, a basis is also the Euroconstruct study, which represents 15 Western European and 4 Eastern European countries in terms of construction volume.
Ludwig Dorffmeister from the ifo Institute in Munich, which is the German member of Euroconstruct, recently gave a summary of building construction activity in the coming years based results of the latest Euroconstruction Conference at November 2022.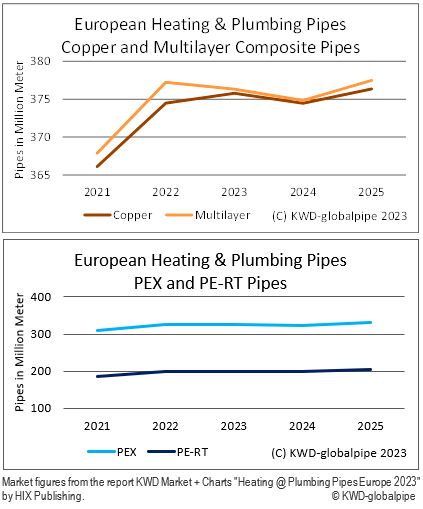 Nearly all factors negative as European construction looks set to stagnate: Following strong growth in 2021 and 2022 (+ 5.8 percent and + 3.0 percent), the European construction sector is likely to be spared another downturn. This year and next, the market will stagnate, and in 2025 it will grow only slowly at just over one percent. The stimulus factors here include government modernization aid in building construction, in some cases considerable investment requirements in the housing and infrastructure sectors, and the much more positive economic outlook again from 2024. "The European construction sector is benefiting in particular from rising construction demand in France, Spain and the UK. Growth rates there are between two and a half and just under seven percent." explains Ludwig Dorffmeister. In Germany, a significant decline in new residential construction is expected, but the large construction backlog and long project implementation times will stabilize the new construction market for the time being.
The now published report KWD Market + Charts "Heating & Plumbing Pipes Europe 2023" estimates how many millions of meters of pipe have been or will be installed in domestic installations in Europe and lists them by pipe material and application area per EC19 country.
The following pipe materials are analyzed in the application areas of underfloor/surface heating, radiator connection and sanitary installation:
Metal pipes: steel / copper / stainless steel
Plastic pipes: PEX / PE-RT / PP-R / PB
Multilayer composite pipes: PEX or PE-RT – Aluminum – PEX or PE-RT
New this year are Long Time Charts. It shows the long-term development over 20 years, i.e. from 2006 to 2025 for Europe and the 5 strongest pipe countries: Germany, France, Great Britain, Italy and Poland.
Crisis Calculator: Da nach nahezu überstandener Corona Pandemie sich aber durch gestiegene Bauzinsen, hohe Realisierungskosten und wirtschaftliche Abkühlung der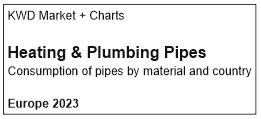 Neubaumarkt weiterhin schwierig vorhersagen lässt, fügen wir wieder den Crisis Calculator bei. Mit dessen Hilfe lassen sich von jedem individuell pro Land die Vorhersagen für 2024 und 2025 durch Eingabe von einer prozentualen Veränderung verändern.
The study costs 1.200,- Euro for our subscribers, for all others 1.450,- Euro (in Germany plus Tax, abroad with prepayment). Authors are as always Jutta Hix, chief editor of the KWD information services and Achim Seydel of Seydel Consulting.
Detailed information on the study and order forms are enclosed with this issue.
Contact: HIX Publishing, Jutta Hix, hix@kwd-online.de.
Market Reports