Jansen expands production capacity and focuses on sustainable energy generation

Jansen expands production capacity and focuses on sustainable energy generation
Jansen Plastics offers a wide range of extruded plastic solutions characterised by Swiss quality, reliability, safety and economy. These are used in the areas of water management, building services, geothermal energy and specific customer profiles. Jansen has long-standing expertise in multi-layer and multi-component extrusion. Now the possibilities for producing composite pipes for a wide range of applications are being expanded.
Major investment in innovative multi-layer pipe production plant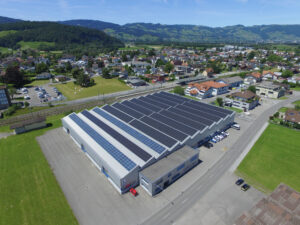 As the most innovative supplier of technically sophisticated composite pipe solutions, Jansen is investing the impressive sum of around CHF 5.0 million in the most modern, interlinked multi-layer pipe production plant. The new plant has an annual capacity of over 17 million metres. The integrated laser welding system no longer requires welding electrodes; as a result, the heat impact on the material is lower and butt welding is more reliable.
In addition to the technical advantages, a local partner was chosen in order to lend holistic weight to the issue of sustainability. The composite pipe system opens up new production possibilities in the field of geothermal energy for the JANSEN hipress geothermal probe, the strongest geothermal probe in the world, and the PRIMA pipe range for the high-temperature range with drinking water approval. This also includes the PE-RT aluminium composite pipe made of temperature-resistant polyethylene with an aluminium layer.
Sustainability: major investment in solar energy
In March, the contract for the construction of a new 2.1 MWp photovoltaic plant was awarded; it is one of the largest plants in the region of Eastern Switzerland. Back in 2009, the largest PV system in the region at the time was installed on one of the production halls. In 2022, another followed with an output of 608 kWp. In the next few years, more roofs are to be covered with PV modules.
With these investments, Jansen is promoting its sustainable development with the future aim of increasingly producing the necessary energy for its production operations itself, or to be as energy self-sufficient as possible in the future.
Market Reports