GEBERIT Silent-db20 for 25 years: Highly sound-insulated drainage system
Proven for 25 years – the highly sound-insulated drainage system Geberit Silent-db20 still confidently meets the current state of the art. Thanks to numerous product advantages and simple and safe processing and application, the system is the absolute standard in installation technology.

"When we developed the Geberit Silent-db20 system and introduced it to the market in 1997, we were already looking to the future," says Philipp Claus, Product Manager Piping Systems at Geberit. "Geberit Silent-db20 not only met the needs of users when it was introduced, but even then it met the necessary fire and noise protection requirements of today."
Product advantages at a glance
The pipe system does not require any joints – this results in less waste and scrap, less setup work and simpler stock-keeping. It therefore scores not only in terms of processing, but also in terms of sustainability.
In addition, hydraulically optimized fittings facilitate drainage performance: the branches have a bend radius that ensures 30% higher drainage performance compared with drainage systems with branches without a bend radius. Thanks to shortenable fittings, the system is ideally suited to tight construction situations.
The plastic pipes and fittings also have high chemical resistance and are thus resistant to internal and external corrosion. It is also largely insensitive to external mechanical influences.
For a secure connection, Geberit Silent-db20 can be joined in three ways: With a clamping connector, with an electrofusion socket and by mirror welding. The last two connection techniques are material and longitudinal force-locking, whereas the former is detachable. No special tools are required for the connection by means of a clamping connector – a pipe cutter and a cordless screwdriver are sufficient.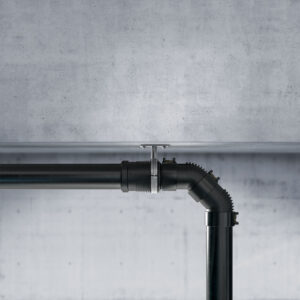 For almost all areas of application: These include multi-story residential construction with requirements for increased sound insulation, domestic wastewater, and interior rainwater pipes. These are pressure-resistant with welded connections up to a geodetic height of 30 meters (3 bar). The system – with welded connections – can also be used in special buildings or applications. This applies in particular to hospitals, laboratories, chemical wastewater in industry, grease-containing wastewater in commercial kitchens and pressure lines in lifting plants. In addition to the permanently tight, material-locking connection, the welded joints also have the advantage of a longitudinal force-locking connection.
Geberit Silent-db20 is available in numerous dimension widths: DN 56, 70, 90, 100, 125 and 150. The dimensions DN 56 to DN 100 were already available when the product was launched in 1997; the other pipe dimensions were introduced as system supplements at a later date. In addition, there are also system pipe clamps matched to the system. Only one pipe clamp is required for fixed and sliding points. The system pipe clamp can be completely closed without any negative influence in terms of sound insulation and linear expansion. A wide range of special fittings complements the system, which is constantly being adapted to changing conditions: "Even after 25 years, we are still bringing a novelty to the Silent-db20 drainage system in the form of the Geberit Offset fitting. Thanks to the offset fitting, offsets of up to 10 cm can be implemented in downpipes without causing stress. And in addition, a sliding pipe clamp can be dispensed with within the floor," says Philipp Claus.
All standards are met: When it was introduced in 1997, the system already met the standards required today: It has sound insulation certificates in accordance with DIN 4109 and VDI 4100. In addition, a large number of sound insulation certificates are available from the Fraunhofer Institute for Building Physics IBP for various building situations. The system also reliably meets fire protection requirements: The Rohrschott90 Plus EN fire protection sleeves with R 30, R 60 and R 90 and Rohrschott120 with R 30, R 60, R 90 and R 120 reliably seal pipe penetrations through walls and ceilings in the event of a fire within the scope of the applicable test regulations for – depending on the model – 30, 60, 90 or 120 minutes. With the pipe bulkhead90 Plus EN, numerous solutions with zero distance to supply and ventilation pipes according to DIN 18017-3 are also possible. Pipe bulkhead120 can be used in ceilings via clamping connectors or E-muffs in the area of the pipe bulkhead. Last but not least, Silent-db20 is a component of the Geberit system solution Geberit Quattro for the requirements in classified installation shafts I 30 and I 90 as well as in classified installation walls F 30 and F 90. The Geberit Quattro system solution I 30 and I 90 offer an approved solution for all special ceilings such as wood joist ceilings or cross laminated timber ceilings.
Contact: Geberit Vertriebs GmbH, Pfullendorf /DEU, www.geberit.com.
Market Reports