FRÄNKISCHE: alpex F50 PROFI® multilayer composite pipe system for more than 20 years

Safety and durability, easy installation and utmost hygiene: FRÄNKISCHE is a pioneer in the field of installation systems and has been on the market with its alpex multilayer composite pipe systems for heating and drinking water installations for more than 20 years.
Permanent temperature resistance, crimp jaw flexibility and lead-free design have been standard features for alpex F50 PROFI and alpex-duo XS for many years. Along with multilayer composite pipes in the dimensions from 16 to 32 mm, the systems also include a great variety of fittings – for maximal flexibility at the construction site.
FRÄNKISCHE answers the most important questions to offer its users the best possible and practical support:
Up to which temperature can alpex F50 PROFI and alpex-duo XS be used?
How are direction changes realised and which bend radii are possible?
Are the alpex F50 PROFI and alpex-duo XS fitting systems lead-free?
How is the insertion depth checked?
How can one tell if the alpex F50 PROFI and alpex-duo XS systems have been securely installed?
Is it necessary to perform deburring and calibration during installation?
How does the installation system ensure the highest drinking water hygiene?
How do the alpex F50 PROFI / alpex-duo XS systems ensure regular water exchange and reliable operation?
Can the alpex systems be directly connected to heat pumps?
Is implementing riser pipes with multilayer composite pipes economically reasonable?
The answers to the questions can be found on the website of Fränkische Rohrwerke:
https://www.fraenkische.com/en/news-item/alpex-f50-profi-r-wissenswertes-fuer-installateure?context=
Source: Fränkische Rohrwerke Gebr. Kirchner GmbH & Co. KG, www.frankische.com.
Photos: Fränkische Rohrwerke
KWD Market+Charts Report: Impact of declining housing completions
At its summer conference in June, Euroconstruct published the latest projections for housing completions. These are now significantly lower than expected at last winter conference in 2022.

The headline of the official Euroconstruct report of the summer conference in June of this year already suggests a falling housing construction forecast: " Risks and uncertainties impeding the growth of the European construction market". Even clearer is the headline of the press release of the German ifo Institute related to the situation in Germany: "Significantly fewer new homes by 2025"!
Already at the beginning of the year, when preparing the current KWD Market + Charts study with the forecast for pipe consumption for surface heating, radiator connection and sanitary installation, we considered a worsening of the construction completion figures as a possibility. So, we have again included the Crisis Calculator to our market report.

The Crisis Calculator is intended to provide a way to respond to increased construction interest rates, high realization costs and economic slowdown in the new construction market. With its help, every user of our market study can react individually to changes by adjusting the forecasts for 2024 and 2025 by means of a percentage input per country.
For the current situation in Germany, the crisis calculator can show the new residential construction situation as follows: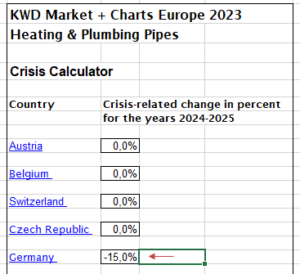 The KWD Market +Charts study is based on the forecast from the ifo Institute from Nov. 2022. However, as can be seen in the table on the right, the expected housing completions in Germany shrink drastically in the new forecast: 30% in 2024 and almost 40% in 2025.
However, it must also be seen
7hat subsidies for modernization projects have been raised sharply and that the modernization market should therefore grow.
and also in the new construction sector, the heat pump and thus frequently surface heating systems will play a much stronger role.
We will now simply assume a possible decline of 15% in pipe consumption in 2024 and 2025 in Germany as an example. The situation would then be as follows: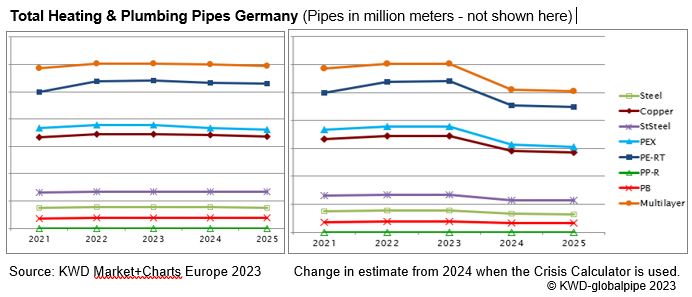 The report KWD Market + Charts "Heating & Plumbing Pipes Europe 2023" estimates how many million meters of pipe have been or will be installed in domestic plumbing systems in Europe and lists them by pipe material and application per EC19 country.
The KWD report costs 1,200 euros for our subscribers and 1,450 euros for all others (in Germany plus VAT, abroad with advance payment). Authors are Jutta Hix, chief editor of the KWD information services and Achim Seydel of Seydel Consulting. Detailed information about the study with page examples and order forms are attached to this issue.
More Info: https://www.globalpipe.de/market-reports/on-heating-plumbing-pipes/
Contact: HIX Publishing, hix@kwd-online.de.
Jansen expands production capacity and focuses on sustainable energy generation

Jansen expands production capacity and focuses on sustainable energy generation
Jansen Plastics offers a wide range of extruded plastic solutions characterised by Swiss quality, reliability, safety and economy. These are used in the areas of water management, building services, geothermal energy and specific customer profiles. Jansen has long-standing expertise in multi-layer and multi-component extrusion. Now the possibilities for producing composite pipes for a wide range of applications are being expanded.
Major investment in innovative multi-layer pipe production plant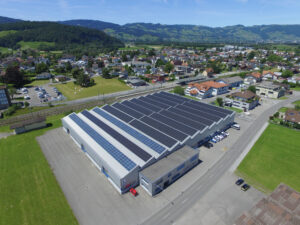 As the most innovative supplier of technically sophisticated composite pipe solutions, Jansen is investing the impressive sum of around CHF 5.0 million in the most modern, interlinked multi-layer pipe production plant. The new plant has an annual capacity of over 17 million metres. The integrated laser welding system no longer requires welding electrodes; as a result, the heat impact on the material is lower and butt welding is more reliable.
In addition to the technical advantages, a local partner was chosen in order to lend holistic weight to the issue of sustainability. The composite pipe system opens up new production possibilities in the field of geothermal energy for the JANSEN hipress geothermal probe, the strongest geothermal probe in the world, and the PRIMA pipe range for the high-temperature range with drinking water approval. This also includes the PE-RT aluminium composite pipe made of temperature-resistant polyethylene with an aluminium layer.
Sustainability: major investment in solar energy
In March, the contract for the construction of a new 2.1 MWp photovoltaic plant was awarded; it is one of the largest plants in the region of Eastern Switzerland. Back in 2009, the largest PV system in the region at the time was installed on one of the production halls. In 2022, another followed with an output of 608 kWp. In the next few years, more roofs are to be covered with PV modules.
With these investments, Jansen is promoting its sustainable development with the future aim of increasingly producing the necessary energy for its production operations itself, or to be as energy self-sufficient as possible in the future.
HPG plastics becomes part of the HULIOT Group: Bundled competence
The German specialist for PE-RT pipes joins the international Huliot Group.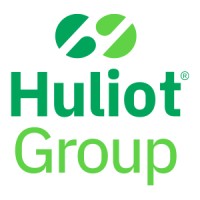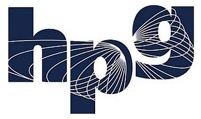 The Huliot Group, a global company with over 750 employees, is successfully continuing its expansion course in Germany with the acquisition of hpg plastics gmbh. With this step, the Huliot Group is primarily strengthening its expertise in the field of surface heating systems.
Since 1984, hpg plastics gmbh has specialized in the production of PE-RT pipes for surface heating, drinking water systems and sanitary applications. The portfolio mainly includes the production of innovative pipes such as the extremely flexible "Flexolen®", the safe "Inverse®", or the completely customizable "Composite®".
The aim of the acquisition is to offer existing and potential customers of both companies an even more comprehensive range of services covering the complete spectrum of pipe systems globally. This strong collaboration will enable a wide range of innovative solutions to be offered from a single source.
As a result of the takeover, the Huliot Group will grow to around 800 employees at its locations in Israel, India, Slovenia, Portugal and Germany. At the same time, hpg plastics gmbh will remain unchanged as a subsidiary at the site in Ratingen/Germany. The CEO of hpg plastics gmbh, Jürgen Hendrikx, will also remain part of the team as Managing Director, helping to ensure the efficient integration of services and knowledge: "We are delighted that together with the Huliot Group we now have the opportunity to continue our growth globally, develop synergies with other group members and expand our product range."
Huliot Group is a global leader in advanced flow systems for commercial & residential buildings, bringing complete solutions that cover water supply, wastewater, & infrastructure. Huliot was established in 1947 by the members of Kibbutz Sde Nehemia in Israel's Upper Galilee. Since 2019 Huliot Group is jointly owned by Kibbutz Sde Nehemia (50%) and the Tene Investment Fund (50%).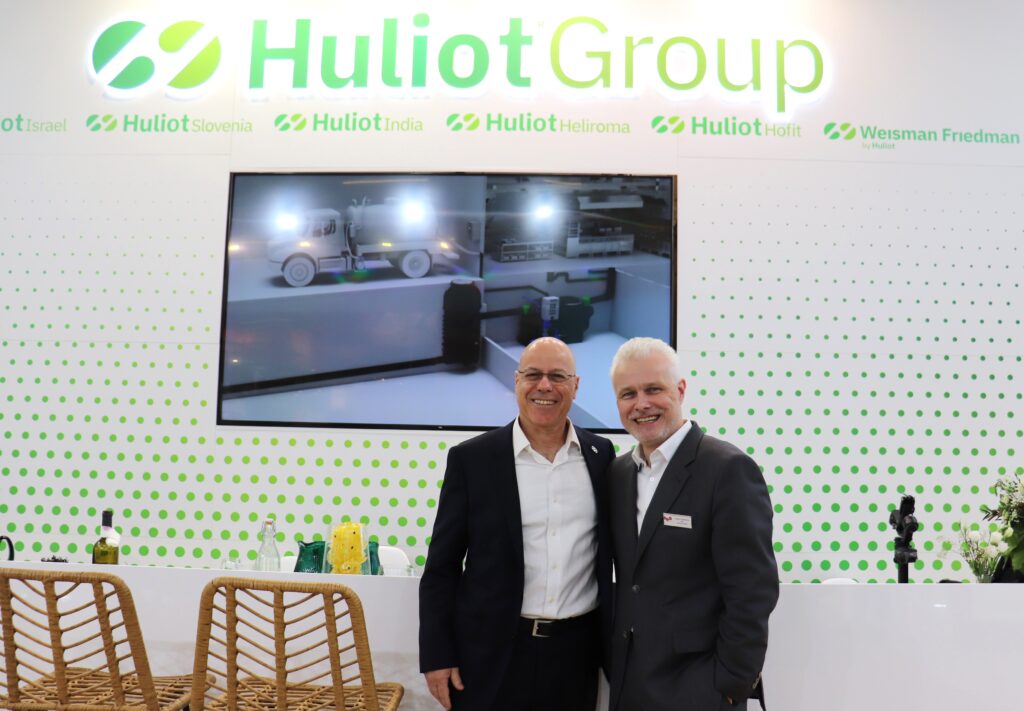 CEO Huliot Group Nitzan Cohen (left) and CEO hpg plastics Jürgen Hendrikx at the fair ISH Frankfurt 2023
Contact: hpg plastics GmbH, Ratingen /DEU, www.hpg-plastics.com / www.huliotgroup.com.
Molecor donates a shipment of pipes and fittings to Turkey to help in the reconstruction of the water infrastructure
The earthquakes registered in the south of Turkey since the 6th of February reached magnitudes of up to 7.7 on the Richter scale and produced devastating effects in the region with a serious impact on the population and the country's infrastructure.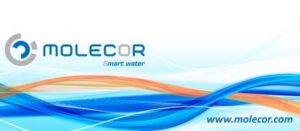 Molecor, a company dedicated to the manufacture of piping and sanitation products, has sent more than 12km of PVC-O TOM® pipes and ecoFITTOM® fittings for the reparation and installation of drinking water supply networks to help the recovery of the country.
The urgency of the situation has prompted a rapid response from countries, institutions, companies and volunteers to help rebuild the region as quickly as possible. Among the most important tasks are ensuring the safety of all citizens and restoring damaged infrastructure so that affected cities can recover basic services.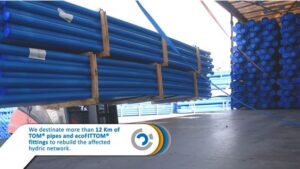 Water is a basic necessity for the recovery of Turkey and it is intended that with the help of Molecor and the efforts made by everyone, access to this service can be recovered in the area as soon as possible.
Source: www.molecor.com
KWD market report: How are Europe's pipe markets developing in times of crisis?
Answers and forecasts in the new update of the KWD Market + Charts "Heating & Plumbing Pipes Europe 2023". It shows the consumption of pipes for domestic installations in Europe by materials and application per country! NOW with Long Time Charts for the TOP 5 countries!

The consumption of pipes in hot and cold water installations is of course firmly linked to the building construction activity, both new construction and modernization, in the individual European countries. Therefore, a basis is also the Euroconstruct study, which represents 15 Western European and 4 Eastern European countries in terms of construction volume.
Ludwig Dorffmeister from the ifo Institute in Munich, which is the German member of Euroconstruct, recently gave a summary of building construction activity in the coming years based results of the latest Euroconstruction Conference at November 2022.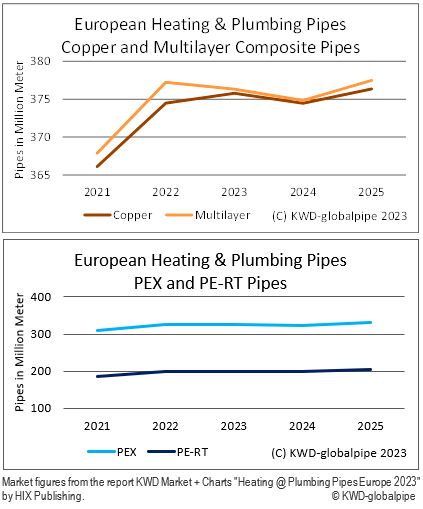 Nearly all factors negative as European construction looks set to stagnate: Following strong growth in 2021 and 2022 (+ 5.8 percent and + 3.0 percent), the European construction sector is likely to be spared another downturn. This year and next, the market will stagnate, and in 2025 it will grow only slowly at just over one percent. The stimulus factors here include government modernization aid in building construction, in some cases considerable investment requirements in the housing and infrastructure sectors, and the much more positive economic outlook again from 2024. "The European construction sector is benefiting in particular from rising construction demand in France, Spain and the UK. Growth rates there are between two and a half and just under seven percent." explains Ludwig Dorffmeister. In Germany, a significant decline in new residential construction is expected, but the large construction backlog and long project implementation times will stabilize the new construction market for the time being.
The now published report KWD Market + Charts "Heating & Plumbing Pipes Europe 2023" estimates how many millions of meters of pipe have been or will be installed in domestic installations in Europe and lists them by pipe material and application area per EC19 country.
The following pipe materials are analyzed in the application areas of underfloor/surface heating, radiator connection and sanitary installation:
Metal pipes: steel / copper / stainless steel
Plastic pipes: PEX / PE-RT / PP-R / PB
Multilayer composite pipes: PEX or PE-RT – Aluminum – PEX or PE-RT
New this year are Long Time Charts. It shows the long-term development over 20 years, i.e. from 2006 to 2025 for Europe and the 5 strongest pipe countries: Germany, France, Great Britain, Italy and Poland.
Crisis Calculator: Da nach nahezu überstandener Corona Pandemie sich aber durch gestiegene Bauzinsen, hohe Realisierungskosten und wirtschaftliche Abkühlung der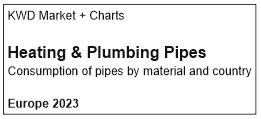 Neubaumarkt weiterhin schwierig vorhersagen lässt, fügen wir wieder den Crisis Calculator bei. Mit dessen Hilfe lassen sich von jedem individuell pro Land die Vorhersagen für 2024 und 2025 durch Eingabe von einer prozentualen Veränderung verändern.
The study costs 1.200,- Euro for our subscribers, for all others 1.450,- Euro (in Germany plus Tax, abroad with prepayment). Authors are as always Jutta Hix, chief editor of the KWD information services and Achim Seydel of Seydel Consulting.
Detailed information on the study and order forms are enclosed with this issue.
Contact: HIX Publishing, Jutta Hix, hix@kwd-online.de.
THE Machines develops specific process for reinforced multilayer composite pipes
THE Machines Yvonand SA has conducted an intensive development and test program to achieve high pressure resistant multilayer composite pipe constructions for various applications such as AC (air conditioning) installations, hydrogen transport, industrial applications and raw material reduction projects.

A double central binder solution makes it possible to produce variable pitches with different types of filaments adapted to the specific process and at remarkable production speeds: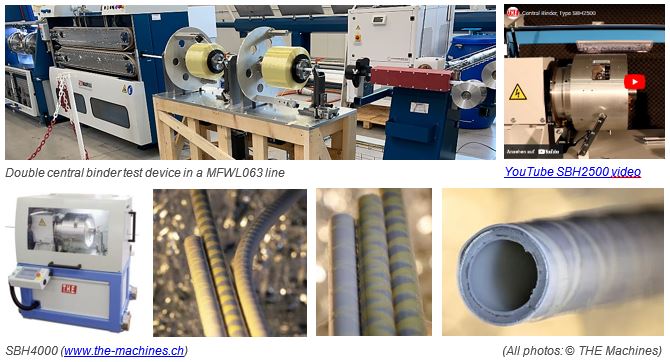 The new double central binding unit will be available as stand-alone solution for easy integration in any existing production line. For the THE MFWL series (Mulitlayer Forming/Welding Lines) will be developed a fully integrated user interface including recipe system for different pressure ranges.
For basic lab testing, please request different samples of 16 x 2 mm reinforced composite pipe from our Product Manager Metal, Mr. Thierry de la Harpe (delaharpe.t@the-machines.ch).
Contact: THE Machines Yvonand SA, Switzerland, www.the-machines.ch
GEBERIT Silent-db20 for 25 years: Highly sound-insulated drainage system
Proven for 25 years – the highly sound-insulated drainage system Geberit Silent-db20 still confidently meets the current state of the art. Thanks to numerous product advantages and simple and safe processing and application, the system is the absolute standard in installation technology.

"When we developed the Geberit Silent-db20 system and introduced it to the market in 1997, we were already looking to the future," says Philipp Claus, Product Manager Piping Systems at Geberit. "Geberit Silent-db20 not only met the needs of users when it was introduced, but even then it met the necessary fire and noise protection requirements of today."
Product advantages at a glance
The pipe system does not require any joints – this results in less waste and scrap, less setup work and simpler stock-keeping. It therefore scores not only in terms of processing, but also in terms of sustainability.
In addition, hydraulically optimized fittings facilitate drainage performance: the branches have a bend radius that ensures 30% higher drainage performance compared with drainage systems with branches without a bend radius. Thanks to shortenable fittings, the system is ideally suited to tight construction situations.
The plastic pipes and fittings also have high chemical resistance and are thus resistant to internal and external corrosion. It is also largely insensitive to external mechanical influences.
For a secure connection, Geberit Silent-db20 can be joined in three ways: With a clamping connector, with an electrofusion socket and by mirror welding. The last two connection techniques are material and longitudinal force-locking, whereas the former is detachable. No special tools are required for the connection by means of a clamping connector – a pipe cutter and a cordless screwdriver are sufficient.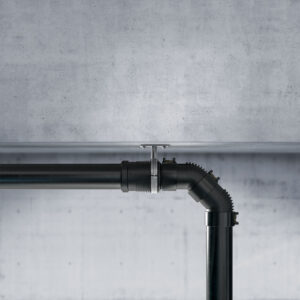 For almost all areas of application: These include multi-story residential construction with requirements for increased sound insulation, domestic wastewater, and interior rainwater pipes. These are pressure-resistant with welded connections up to a geodetic height of 30 meters (3 bar). The system – with welded connections – can also be used in special buildings or applications. This applies in particular to hospitals, laboratories, chemical wastewater in industry, grease-containing wastewater in commercial kitchens and pressure lines in lifting plants. In addition to the permanently tight, material-locking connection, the welded joints also have the advantage of a longitudinal force-locking connection.
Geberit Silent-db20 is available in numerous dimension widths: DN 56, 70, 90, 100, 125 and 150. The dimensions DN 56 to DN 100 were already available when the product was launched in 1997; the other pipe dimensions were introduced as system supplements at a later date. In addition, there are also system pipe clamps matched to the system. Only one pipe clamp is required for fixed and sliding points. The system pipe clamp can be completely closed without any negative influence in terms of sound insulation and linear expansion. A wide range of special fittings complements the system, which is constantly being adapted to changing conditions: "Even after 25 years, we are still bringing a novelty to the Silent-db20 drainage system in the form of the Geberit Offset fitting. Thanks to the offset fitting, offsets of up to 10 cm can be implemented in downpipes without causing stress. And in addition, a sliding pipe clamp can be dispensed with within the floor," says Philipp Claus.
All standards are met: When it was introduced in 1997, the system already met the standards required today: It has sound insulation certificates in accordance with DIN 4109 and VDI 4100. In addition, a large number of sound insulation certificates are available from the Fraunhofer Institute for Building Physics IBP for various building situations. The system also reliably meets fire protection requirements: The Rohrschott90 Plus EN fire protection sleeves with R 30, R 60 and R 90 and Rohrschott120 with R 30, R 60, R 90 and R 120 reliably seal pipe penetrations through walls and ceilings in the event of a fire within the scope of the applicable test regulations for – depending on the model – 30, 60, 90 or 120 minutes. With the pipe bulkhead90 Plus EN, numerous solutions with zero distance to supply and ventilation pipes according to DIN 18017-3 are also possible. Pipe bulkhead120 can be used in ceilings via clamping connectors or E-muffs in the area of the pipe bulkhead. Last but not least, Silent-db20 is a component of the Geberit system solution Geberit Quattro for the requirements in classified installation shafts I 30 and I 90 as well as in classified installation walls F 30 and F 90. The Geberit Quattro system solution I 30 and I 90 offer an approved solution for all special ceilings such as wood joist ceilings or cross laminated timber ceilings.
Contact: Geberit Vertriebs GmbH, Pfullendorf /DEU, www.geberit.com.
Copper Alliance: LCA study shows Copper helps reduce Carbon Emissions in Buildings
Scientific LCA study highlights copper's superior properties as the material of choice over plastic: Comparativer LCA of Water Installation Tube Systems based on Copper, PEX-AL Multilayer and PEX.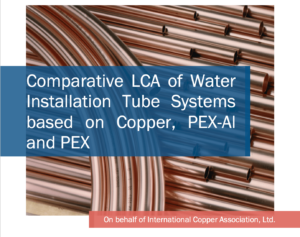 KWD-globalpipe, 12.12.2022. The buildings and construction sector accounts for about 35 percent of energy use and creates 40 percent of global energy and carbon dioxide (CO2) emissions annually. Building operations are responsible for 28 percent of the emissions each year, while manufacturing building materials and the construction process (also referred to as embodied carbon) are responsible for an additional 11 percent.
Embodied carbon emissions are locked in place as soon as a building is built and cannot be reduced through improvements to energy efficiency or by introducing renewable energy systems. Therefore, building construction products (e.g., piping in an apartment) with lower emission impacts are key in addressing embodied carbon.

Research conducted by ICA (International Copper Association) in collaboration with Sphera and led by Dr. Constantin Herrmann examined three water installation tube systems—copper, plastic multilayer pipes (PEX-Al) and plastic cross-linked polyethylene (PEX)—via a scientific life cycle assessment (LCA) comparison in accordance with ISO14040. (Comparative LCA research investigation parameters meet global standards).
The comparative findings, backed by a scientific review panel, definitively concluded that only a copper system ensures high levels of recyclability and material circularity that significantly reduces the environmental impact of a building.
The comparative research shows that when copper is intelligently used in buildings, it reduces CO2 emissions and supports the 1.5°C goal to mitigate climate change and global warming, as stated by The Intergovernmental Panel on Climate Change (IPCC).
Study findings indicate that using copper in a building's drinking water system cuts around one-third of Greenhouse Gas emissions (GHG, Graphic 1) and energy use (Graphic 2) compared to systems made from plastic (PEX-Al and PEX). This is true not only for a drinking water system, but in every application where copper tubes are used to transport fluids in buildings (e.g., heating, air conditioning and gases).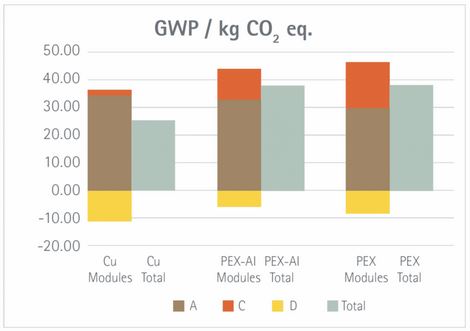 A focus on CO2 emissions and primary energy reduction: An LCA assesses the environmental impact of a product from its creation through its use and eventual deconstruction or disposal. Sphera's LCA study compared three water installation tube systems to determine if the production, lifetime use and deconstruction were comparable for all three systems. The LCA researchers investigated the comparative water use for a 100m2 (~1,076ft2) apartment and covered tubes and additional system components, such as fittings and connectors that combine and fix the tubes. The key variables for comparison included the material's composition and properties, manufacturing, and respective recycling potential.
Copper cuts operational and embodied CO2 emissions: When it comes to operational emissions, copper's intrinsic properties provide additional GHG savings. For instance, in the EU, heating, cooling and domestic hot water account for 80 percent of household energy consumption. Waste Water Heat Recovery (WWHR) is an available and effective energy-efficiency solution to reduce the energy demand for domestic hot water via direct heat recovery from shower drains. Copper's excellent thermal conductivity saves approximately 40 percent of energy use and CO2 emissions from domestic hot water production. The combined operational and embodied carbon savings make copper a key contributor to decarbonizing buildings.
As presented in the study, additional emission reductions can be achieved through copper recycling,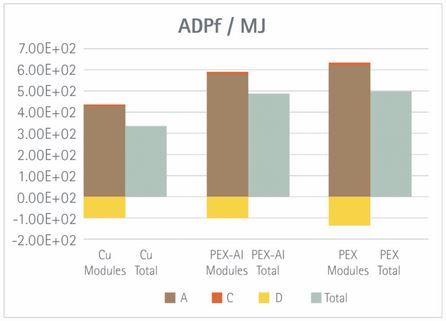 conservation, and material circularity. Copper can be recycled over and over again without any loss of its properties. By pursuing responsible  sourcing and recycling practices across the copper value chain, copper will continue to be the material of choice for sustainable decarbonization technologies.
Contact: International Copper Association, Ltd., www.copperalliance.org. PR: olivier.tissot@copperalliance.org
Copper Alliance® is a registered trademark of the International Copper Association, Ltd.
New BVF info sheet published: Tips for cost savings through efficient heating with an underfloor heating system
Heating costs account for a considerable proportion of a building's annual operating costs. No wonder that users try to reduce heating costs. Starting with modernization measures, such as building insulation, to the installation of modern heating technology.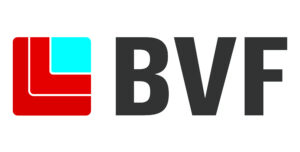 KWD-globalpipe, November 2022. Underfloor heating and its optimization play a significant role in reducing heating costs, as it is a low-temperature heat distribution system. It enables a comfortable indoor climate and at the same time leads to lower heating costs compared to other heat distribution systems, as the flow temperature is significantly lower. The BVF would like to provide users of underfloor heating systems with the most important information for evaluating the situation as well as sensible measures with a new information sheet.
Underfloor heating convinces with its extreme longevity. If the pipes, which have a service life of at least 50 years, are not damaged, there will be no signs of wear. Through the right user behavior as well as the installation of modern, retrofittable control technology, energy costs can be saved even with older systems. Another advantage of underfloor heating systems is that they can be combined with all regenerative heat generators, such as heat pumps, solar thermal systems and photovoltaic systems.
Which possibilities users of floor heatings, in order to save energy, a new info. sheet of the Federal association for surface heatings and surface coolings registered association leads out. The information sheet is one of a series of practical aids published by the BVF in recent years. So far, tips for the modernization of existing floor heating systems and electric floor heating systems as well as tips for the retrofitting of ceiling systems have already been published.
On 4 pages, the BVF shows how to operate the heating system more efficiently and thus save energy with just a few measures. Briefly, the following aspects are highlighted:
Annual maintenance with possible measures
Self-monitoring of energy consumption
Implementation of hydraulic balancing
Installation and updating of control technology for individual room control
Also the correct ventilation behavior plays an important role in the context of the possibilities for cost saving and finally the info sheet shows, which assistance the federation can give beyond the info sheet for the increase of the efficiency of the under-floor heating. The info. sheet is available on flaechen-heizung.de for the Download.
With the help of the new info sheet 'Tipps zur Kosteneinsparung durch effizientes Heizen mit einer Fußbodenheizung' (Tips for cost savings through efficient heating with underfloor heating – only in German language available), the BVF shows how, with new control technology, adaptation of the heating curve and heating limit temperature, as well as hydraulic balancing, the optimal and thus efficient function of the underfloor heating system can be ensured for the next decades, with potential savings of up to 20% in heating costs.
Contact: Bundesverband Flächenheizungen und Flächenkühlungen e.V., Dortmund /DEU, www.flaechenheizung.de
Info sheet energy saving tips for download:
https://www.flaechenheizung.de/download/tipps-zur-kosteneinsparung-durch-effizientes-heizen-mit-einer-fussbodenheizung/
Market Reports